Faux Paw the Techno Cat
Peace of Mind For Families Online
As parents, you are in the best position to help your children establish good habits in every online interaction they have. And considering that in the course of an average day, children spend seven hours either online or interacting with their digital devices, it is increasingly crucial that parents do so. Often, the best way to connect with your children—especially young children—is to highlight principles through simple, illustrative stories.
Meet Faux Paw, the Websurfing Techno Cat, who will captivate the attention of your sons and daughters and teach them about the safe and responsible use of technology. Expert child psychologists, educators, and law enforcement have collaborated together to create this series of books and animated DVDs. Take advantage of these powerful resources by reading and watching them together with your children today.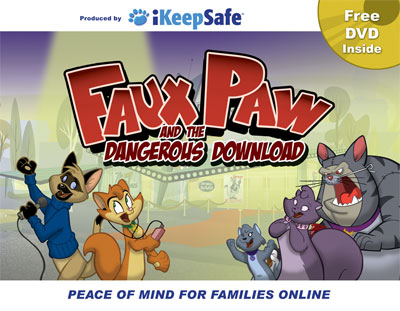 Faux Paw's Dangerous Download
It's often difficult for children to understand the complexities of copyrights and to realize the serious consequences they may face for downloading illegal material. This Faux Paw adventure teaches children about the security and ethical risks inherent in peer‐to-peer downloading and encourages them to download from reputable, legal Web sites.
Downloads
| Movie | Book | Curriculum | Extras |
| --- | --- | --- | --- |
| Resolution Sizes | Available Formats | | For Ipod |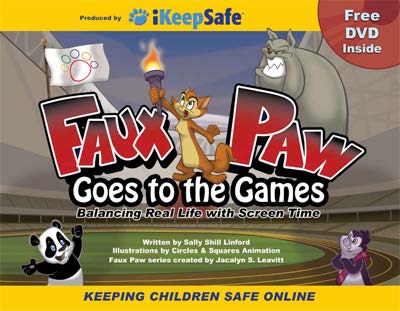 Faux Paw Goes to the Games:
Balancing Real Life with Screen Time
With nearly 23% of youth reporting that they feel "addicted to video games," parents are increasingly concerned that screen time is robbing their children of real world experiences. Faux Paw shows children first hand just what can happen when online games interfere with real‐life goals, and emphasizes how important it is to strike a healthy balance.
Downloads
Movie
Book
Curriculum

Resolution Sizes

Available Formats

Flash (This can be used in your Browser)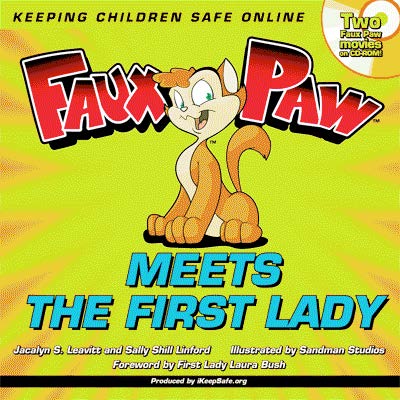 Faux Paw Meets the First Lady: How to Handle Cyberbullying
Cyber abuse is a real and present danger for children and because it can begin whenever children start using the internet, it is critical to discuss online conduct and behavior early on. This engaging story, features former First Lady Laura Bush, teaches kids how to avoid online harassment and, when necessary, how to handle it.
Downloads
| Movie | Book | Curriculum |
| --- | --- | --- |
| Resolution Sizes | Available Formats | |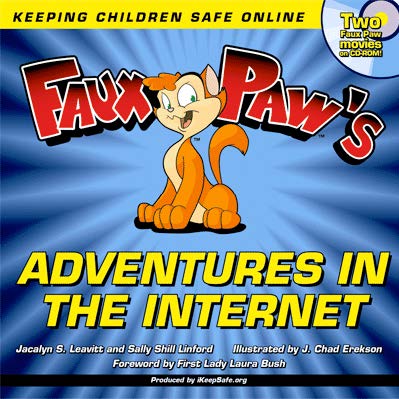 Faux Paw Adventures in the Internet
Children need to grasp basic internet safety, security, and privacy guidelines in order to be successful online. Faux Paw illustrates how the internet is like a big city—some places
are safe, other places aren't, and it's important to know the difference!
Downloads
| Movie | Book | Curriculum | Extras |
| --- | --- | --- | --- |
| Resolution Sizes | Available Formats | | Audio Files |