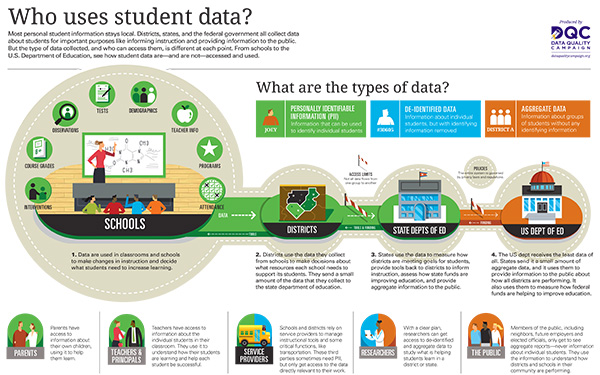 Education data are a powerful tool that can help all with a stake in education—from families and educators, to state and federal policymakers— in their efforts to support students and identify pathways to success. When teachers have appropriate access to data on their students, they can individualize their instruction, communicate better with students and their families, and reflect on their own practice. Parents and students can be empowered with an understanding of their own learning. School and district leaders can use education data to make decisions about curricula, staffing, and programing. Policymakers can assess education goals and provide resources. But with the incredible power of education data comes a series of key questions:
—What exactly are these data?
—Do different stakeholders need access to the same data?
—What data are shared with the state and federal government and why?
And perhaps most importantly:
—Can student privacy be protected when data are being used to improve student success?
The answer to this last question is yes! And the answers to the earlier questions explain how.
Education data are far more than standardized test scores and include information on a student's course grades and performance, attendance, interventions and program participation, teacher observations, and demographics. In short, education data include any piece of information that can be used to inform good education decisionmaking. But because educators and policy leaders at the local, state, and federal levels have different responsibilities, they don't all need access to the same information. State data systems can ensure that each stakeholder only has access to the data they need to do their job. For example, a teacher may need individual data on his or her own students, but a state policymaker needs only aggregate data (i.e. data about large groups of students that could never be used to identify an individual) to make big-picture decisions.
Sending some types of data to the state (and even less to the federal government, which cannot collect personally identifiable data about individual students) helps clarify the impact of funding and programmatic investments, but it also allows the state and federal government to send resources and tools back to schools and districts. The allocating of these resources is critical for education equity, innovation, and success and does not need to compromise student privacy.
Everyone working with education data, including districts, states, and service providers, can help make sure the answers to all of these questions are clear by taking the following steps:watch full A Dog's Purpose 2017 film online
—Establish clear, comprehensive, and forward-looking privacy and security policies that are publicly available.
—Provide transparency to ensure parents understand the "who, what, where, how" of data collection and use.
—Deliver services to demonstrate the value of data, build demand for data, and engender trust with parents and the public.
Safeguarding student privacy is a critical component of effective data use. When strong privacy and security safeguards are in place and people have good information about how data are collected, used, and protected, they can feel confident in the power of data to help students.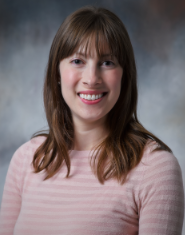 Rachel is an Associate of Policy Analysis and Research at the Data Quality Campaign where she supports the work of ensuring academic success for all students through access to and meaningful use of high-quality data. Rachel aids state policymakers in understanding their role in supporting effective data use, focusing on the landscape of state education data systems and the critical role of safeguarding student privacy in effective data use.
Categories: Digital Citizenship, Educational Issues, Privacy