This week, iKeepSafe joined partners around the world to celebrate Safer Internet Day 2015 (#SID15). Organized by Insafe, it is a day set apart each February to promote safer and more responsible use of online technology and mobile phones, especially among children and young people across the world.
We kicked off #SID15's celebration early by joining Stay Safe Online in a #ChatSTC. During the chat, we discussed online safety and what people can do year-round to keep themself and their family safer and more secure online. To read the full transcript, click here.
We also joined SnapChat's Safety Advisory Board to help them build a new Safety Center. Launched on Safer Internet Day, it is a place for parents, teachers, and Snapchatters to find the safety tips, research, and resources they need to stay safe while using Snapchat.
Additionally, we were asked to join Ask.fm's advisory board.They honored Safer Internet Day 2015, by using the
hashtag #nobullies to encourage people to promise to stand up against bullying behavior they see on Ask.fm, and anywhere online.
Lastly, as a Child Online Protection (COP) partner, we contributed to ITU's article "Let's Create A Better Internet Together." iKeepSafe has partnered with COP since November 2008 to help ensure a safe and secure online experience for children everywhere around the globe.
All in all, #SID15 helped us resolve to take steps every day to make the Internet a safer and better place. And as Alan Simpson (iKeepSafe Director of Communication and Policy) pointed out, children and youth THEMSELVES may have the most important role in building a safer internet. Today's adults watched the internet grow up. Today's youth are growing up WITH it. Between now and next year's Safer Internet Day, let's do everything we can to create a better internet together.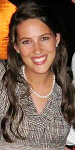 Emily Ensign is the Director of Content Development at iKeepSafe, an organization that gives parents, educators, and policymakers the information and tools that empower them to teach children the safe and healthy use of technology and the internet.
Categories: Digital Citizenship