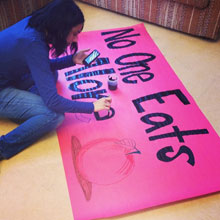 Few events in a 12-year-old's life match the gut wrenching terror of walking into a middle school cafeteria alone. Just considering the prospect awakens memories of the anxiety building throughout the morning. Of sitting alone, half imagining and half wishing myself invisible. Of just praying for the lunch period to end.
Thankfully, my personal agony ended when Carol Schreyer, another 7th grader, saw me eating alone and asked if she could join me. I felt wanted and normal. I belonged.
Today, Carol and I are still friends. I don't know what I would have done if she hadn't sat with me that day. That simple act of kindness changed my life. Thanks to Laura Talmus that same kindness is being repeated in middle school cafeterias across the country.
Founder of Beyond Differences, Laura's goal is to end social isolation in schools. Her mechanism is both brilliant and simple — No One Eats Alone Day (NOEAD). This February 13th, 400,000 students from over 700 schools scattered across half the 50 states participated in NOEAD.
Presidio Middle School in San Francisco was one of those participating schools. The premise is simple. Participating students agree simply to look for students sitting alone and then join them. Nothing complicated or difficult. As middle school participant Quinn told ABC news, "If you see someone eating alone, ask if you can sit with them and just be nice to them."
It really does make a difference. Just ask 7th grade Jeremy about eating alone. "It can feel like no one sees you and no one cares about you." NOEAD helps students like Jeremy realize that they do belong.
Students who feel a sense of belonging add to the overall value of the school community. That sense of community resonated with Wong, an 8th grader who told ABC news, "We are going to talk to new people and help the community grow." Wong and the other students across America who participated in NOEAD are truly helping their community grow by creating positive change.film John Wick: Chapter 2 online streaming
Having said that, ending social isolation is about much more than easing the pain of adolescence – it's an important step in ending bullying. Helping kids feel valued and accepted makes them less susceptible to bullying. The increased self-esteem serves as a personal shield to deflect bullies.
Participating in No One Eats Alone Day is an easy, effective solution to social isolation. To find out more, visit the No One Eats Alone website. If your school or your child's school didn't participate this year, there's always next year! Be sure to share news about this program with your favorite teenager, teacher, or middle school principal.
Their website, http://www.nooneeatsalone.org/
Twitter: http://twitter.com/BeyondDiff
Facebook https://www.facebook.com/BeyondDifferences.org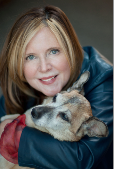 Linda McCarthy is the former Senior Director of Internet Safety and architect under the office of the CTO for Symantec. McCarthy has 20-plus years experience helping families and corporations improve their security. McCarthy works with sponsors such as Microsoft, DeVry University, and Facebook to create free security content to help advance security education around the globe. McCarthy has published more than a dozen books and guides on security including Own Your Space: A Guide to Facebook Security. McCarthy's books and guides have been downloaded over 3.7 million times.
Categories: Cyberbullying, Digital Citizenship, Educational Issues