Nancy Gifford, iKeepSafe Senior Director of Law and Policy, is presenting today at the Legacy Explorations Symposium at Eastern Connecticut University.   The Symposium is attended by sixth graders from several towns in Connecticut and also features Rabbi Lazowski and principal Thanh Nguyn.
Rabbi Lazowski will share his gripping story as a child survivor of the Holocaust.  With the help of family and strangers, who often risked their own safety, Rabbi Lazowski hid for almost three years in the White Russian woods. Principal Nguyen will share his harrowing story of his journey from Vietnam.
Nancy's presentation, "Digital Citizenship and Positive Social Media," will share inspirational stories of youth who are using their devices and online interactions for good. The uniting theme for all three speakers is one of empowerment and inspiration. Large and small, your words and actions can impact others and the world you live in.
During her presentation, Nancy will share this story from Facebook Stories:
Nancy will also talk to the students about the challenges and strategies for being an upstander.  She will explore these five ways to be an upstander and look for the students to add to the list:
1. Stop untrue or harmful messages from spreading: If someone tells you a rumor that you know is untrue or sends you a message that is hurtful to someone else, don't laugh, send the message to other friends or add to the story. Make it clear that you do not think that kind of behavior is "cool" or funny.
2. Help others who are being bullied: Be a friend, even if this person is not yet your friend. Send them a message or go up to them at school and let them know how you think they are feeling. Help them talk to an adult about what has happened.
3. Report what's going on: For example, you can click the "Report" button on a social networking site when you see someone harassing or attacking someone else.
4. Refuse to be a passive bystander: Tell those that are laughing with the bully that they are a part of the problem. Let them know that by laughing they are also bullying the victim.
5. Understand why people bully: Often, bullies are insecure themselves. Although this doesn't excuse their behavior, it's important to show them kindness like you would to anyone else. To learn more about this, visit www.bullybust.org or http://archive.ikeepsafe.org/cyberbullying-resources/.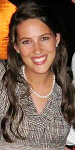 Emily Ensign is the Director of Content Development at iKeepSafe, an organization that gives parents, educators, and policymakers the information and tools that empower them to teach children the safe and healthy use of technology and the internet.
Categories: Cyberbullying, Digital Citizenship, iKeepSafe News, Videos