Social Networks and a Positive Online Reputation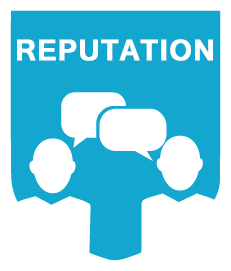 As of August 2009, social networking accounts for at least 17 percent of all internet use [1]. In other words, one out of every six minutes spent online was with social media and blogging.
Considering the surge in popularity of social media, this percentage might not be surprising. But these statistics should call attention to the importance of creating positive online reputations. This especially applies to children who are currently participating in these networks and developing a digital footprint with every comment, "like", video, and photo posted. By posting positive information they can create digital reputations that will be an asset for future school and employment opportunities.
There are a number of things parents can do to help children create and maintain a positive online reputation. The most important thing is to help your child develop critical thinking skills.
Remember to keep current, keep communicating, and keep checking:
Keep current with technology
Know the capabilities of any mobile device your child has. Many cell phones marketed towards children have browser-ready technologies, and this can put the full Internet in their hands with no supervision or limits. For the latest safety information and tutorials, visit iKeepSafe's Parent Resource Center. Talking to other parents, community leaders and local teachers can also provide valuable support for families concerned with online safety.
Keep Communicating with you kids
Engage them in critical conversations. The more you talk to them about online usage, the more they will learn to use digital products in a safe and healthy manner. For example, ask them, "Do you talk with other people online? Who are they? What do they say?" Never stop asking questions.
Keep Checking you kids' Internet activity
Keep computers in a central, public location and check browser histories often to see where they've been. Also, know who is behind the Web sites your children visit. A good way to do this is to check the "About Us" and "Terms & Conditions" sections of Web sites. Most reputable Web sites don't hide behind the shield of the communications decency act, and a lack of contact information may suggest that the site owner is trying to avoid responsibilities.
References