Balancing Screen Time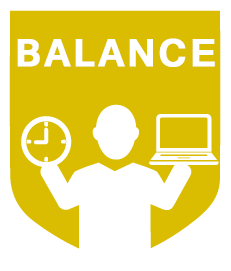 Recently, several researchers have noticed that poor sleep patterns are related to the overuse of electronic media and daytime sleep-related problems. For example, after researchers surveyed 470 Israeli 8th and 9th graders, they found that on average, these teens spent three hours per day viewing television and 2.5 hours each day on the internet. Teens with a television in their bedroom went to bed later and slept less than those without a television in their bedroom. High levels of electronic media use and poor daytime sleep-related behaviors were predictors of later bedtime, as well as later wake-up time during weekends.
The researchers concluded that these findings "raise a public health concern regarding lifestyle and functioning in young individuals".
The concerns raised by this research are not new. A recent Chicago Tribune report says today's youth sacrifice sleep for more time with technology. The Tribune's article is based on two things: (1) real stories of teens that stay up until morning to play video games and surf the internet and (2) recent studies from the Archives of Pediatrics & Adolescent Medicine about recommended amounts of sleep for teens.
The Tribune says teens average 6.5 to 7.5 hours of sleep every night. One teen who played video games with friends until 6:15 a.m. described the activity as "a good bonding experience with friends." Another teen surfed Facebook until until 2 a.m. Although he woke up tired the next morning, he said "it's almost worth it" to stay up so late with technology.
However, the July 2010 volume of Pediatrics recommends teens get nine hours of sleep each night, and says less sleep can lead to "changes in mood, attention, memory, behavior control, and enjoyment of life" [3].
Fortunately, the Tribune article also includes stories of some parents who take an active roll in their kids' lives and set limits on technology use.
Kids' heavy technology use is not a surprise: a Kaiser Family Foundation study released in January tells us that kids use various technologies for nearly eight hours a day [4]. Parents should teach children to balance real life with screen time—or in this case, to balance sleep time with screen time. iKeepSafe encourages parents to read the entire Tribune article and help their children balance technology with getting enough sleep and accomplishing other important tasks. Consequently, their children's lives will be more enriched and satisfying.
Parents may also want to watch iKeepSafe's Faux Paw Goes to the Games with their children. The short film demonstrates the importance of balancing real life with screen time, and it's a fun way to teach the principle of balancing screen time with sleep time.
References: