5 Steps to Balancing Real Life with Screen Time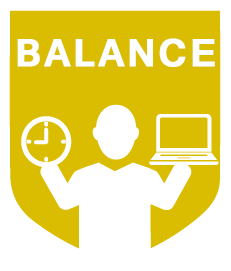 Balancing real life with screen time may sound tricky, but it doesn't have to be.  By following these five steps, your family can enjoy media in healthy doses:
1. Help your children select creative alternatives to digital media consumption.
"There's nothing else to do!" can become an all too common response from your kids unless you have some readily available alternatives to digital media. To come up with some exciting options, consider what your neighborhood has to offer. Are there fun parks, libraries, hikes, or museums nearby? Or consider seasonal options–sledding in the winter and swimming in the summer, for example. There's also plenty of fun things to do around the house like reading a book, playing card games, or practicing a musical instrument. All it takes is a little foresight, and you should be able to come up with a long list of alternatives. For best results, sit down and brainstorm with your kids–they may just surprise you with their good ideas.
2. Create an "electronic media free" environment in your children's bedrooms.
According to the latest national report, "more than 70% of American teenagers have a TV in their own bedrooms, half have a VCR or DVD player, half have a video game console, and one-third have a computer and Internet access.
The problem is that this time spent with media usually replaces creative, active, or social activities. And consequently, mental and social skills take a hit. Research shows that children with bedroom TVs score lower on school tests and are more likely to have sleep problems (Click to tweet). Having a TV in the bedroom is also strongly associated with a higher risk of smoking and being overweight. One of the most obvious reasons for concern is that the child will end up watching far more television.
Interestingly, a study published in Pediatrics, found that kindergartners with TVs in their bedrooms were less "emotionally reactive" (i.e. not as bothered by changes in routine). Although this may sound like a positive, researchers explain that it is a manifestation that the child responds to stimulation less–and they hypothesize it's because of the TV's influence.
3. Keep family time "media free" by banning digital devices from the dinner table:
Dinner is a time for families to come together and talk about the day. By making it a high priority and object of your best efforts, you will gain valuable teaching and bonding time with your children. Although media is often entertaining (and even wholesome), it also distracts everyone involved–making it difficult to engage with one another. And dinner is one time you shouldn't have to compete. Remember, Columbia University's National Center on Addiction and Substance Abuse (CASA) has identified the single greatest predictor that a child will grow up drug free is five nights a week sitting down for family dinner (Click to tweet).
4. Charge phones each night in a central location where they can't interrupt sleep.
At night, leaving kids in their bedrooms with phones often proves to be a costly distraction. The constant beeping of text messages combined with the allure of different apps, can easily lead to sleep deprivation. In order to avoid this problem–and help your kids catch needed "zzz"s–simply gather all of the phones at night to be charged in a central location (like the kitchen or master bathroom). Additionally, you may want to enforce a nightly digital wind-down.
5. Model for your children healthy online/offline time balance.
We all know the saying, "What you do speaks so loud that I cannot hear what you say." If you tell your children that they should use media only in moderation, but then proceed to stay plugged in 24/7, you certainly can't expect them to take you seriously. Teach them by example–show them what it looks like to value face-to-face interaction and time away from digital realities. Make a special effort to remove distractions like cell phones, computers, and the TV when they come home from school or time with friends and ask them to tell you about what they learned or did. Cherish this valuable time to connect with them–doing so will facilitate tremendous teaching and bonding time.